10/10/18 - Workout at CD
You can now schedule timed works for your horses at the track CD.

09/19/18 - Viewer Update and Restructure
Progress on the new 3D viewer has been made and the beta is still currently on track to be released before the BC Special Races.

Horse Creation Limit
Starting in October there will be a limit of 150 horses created or claimed per stable per month.

Maximum Stable Size
At the first of the year a maximum stable size will start being enforced. Stables will not be able to create or claim horses if their stable size exceeds this limit of active horses. The maximum stable size will slowly be walked down to a final maximum size of 1000. Here is the limits for each month until it reaches 1000. Jan - 5000, Feb - 4500, Mar - 4000, Apr - 3500, May - 3000, Jun - 2500, Jul - 2000, Aug - 1500, Sep - 1000

Monthly Prize Restructure starting in October
Overall
1st - $1000, 2nd - $500, 3rd - $250, 4th - $150, 5th - $100, 6th - $75, 7th - $70, 8th - $65, 9th - $60, 10th - $55, 11th - $50, 12th - $45, 13th - $40, 14th - $35, 15th - $30, 16th - $25, 17th - $20, 18th - $15, 19th - $10, 20th - $5

Blue
1st - $100, 2nd - $50, 3rd - $25

Green
1st - $75, 2nd - $35, 3rd - $15

Claiming
1st - $50, 2nd - $25, 3rd - $10

White
1st - $25, 2nd - $10, 3rd - $5

Yearly Prize Restructure starting next year
1st - $1000, 2nd - $500, 3rd - $250, 4th - $200, 5th - $175, 6th - $150, 7th - $125, 8th - $100, 9th - $90, 10th - $80, 11th - $70, 12th - $60, 13th - $55, 14th - $50, 15th - $45, 16th - $40, 17th - $35, 18th - $30, 19th - $25, 20th - $20

06/13/18 - Viewer Update
We have made significant progress on the new 3D viewer for the browser. Barring any set backs we hope to have a beta available by or before the BC Special Races.

04/06/18 - BC Special Races
The BC Special Races have been added to the schedule and can be found under Prizes->Special Races. The BC Juvenile Turf Sprint has been added as a new race for this year.

Watching Races
The current recommended browser for watching races here is Internet Explorer.

The most recent updates to Firefox (versions 52 and above) have eliminated support for NPAPI and the unity webplayer. The following steps can be tried for Mozilla Firefox. You can either load the Firefox ESR version (extended support release) from here: https://www.mozilla.org/en-US/firefox/organizations/ or take the following steps in the regular version:

- open Firefox browser and type about:config in the address bar
- select New -> Boolean
- enter plugin.load_flash_only as the new boolean value in the box that pops up
- set it equal to false
- restart the browser

We are working on a new viewer to replace the current unity version.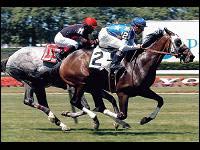 Imagine breeding, owning, caring for, training and racing your own stable of virtual thoroughbreds while interacting in a vibrant social community with thousands of online horse game players from all over the world. This exciting game puts you in complete control of your virtual stable and gives you a first-hand insight of what top thoroughbred owners and trainers do to prepare their horses for upcoming horse racing events.
After breeding and analyzing your horse, your caring and training routine will get him ready for his racing debut. Identify and enter the correct races for your horse, assign his training routine, give your jockey racing instructions, then sit back and watch 3D horse racing at its finest. You will be on the edge of your seat cheering for your virtual thoroughbred as he turns for home and strives with an all-out effort to reach the finish line first. No other horse game can provide this level of realism.
This exciting free game allows racing fans, whether novice or seasoned, to enjoy the most realistic, heart-pounding, exciting gaming experience.
Players compete for top honors and awards in our free online horse game. Will your horses have what it takes to earn top racing honors with you as breeder, owner, and trainer?
Click the Play Now button to start building your stable of champions.




| | | | | |
| --- | --- | --- | --- | --- |
| | | | Smokin' Joe Talamo (Top Jockey and TV Celebrity) - "Being 20, I know all about games. Not only do you guys make the best horse racing games, I think ,simply put, you make the best games! Anyone who plays will become addicted to any one of your games." | |





| | | | | |
| --- | --- | --- | --- | --- |
| | | | Jacob - "Just started getting into horse racing and stumbled across your website. I play skill games and strategy games all the time. Yours are a blast! | |





| | | | | |
| --- | --- | --- | --- | --- |
| | | | Tony - "Love your virtual simulations of upcoming stake races. I've been using your program now for about a year. You've helped me find real hidden betting value in some big races." | |





| | | | | |
| --- | --- | --- | --- | --- |
| | | | Kimberly - "I'm not even a big horse racing fan, but I love horses and I love games and yours are a lot of fun." | |





| | | | | |
| --- | --- | --- | --- | --- |
| | | | Chantal Sutherland (Top jockey and professional model) - "Offering multiple games to reach such a broad audience is a great way to create awareness about horse racing. Obviously, my favorite is the jockey game. It's very realistic." | |