08/15/16 - Update
Here is an update of where things stand and what to expect in the short term. We are working to release the new shed program followed by giving the ability for all players to test and train their horses more accurately. We don't believe testing and training horses should be limited to just those using the desktop client so we are going to be releasing the ability to train and test your horses on the site. This will use the same engine that is being used to run races instead of the engine in the old desktop client. Also, at the top of our list is releasing a basic viewer that uses something other than the unity web player and allows for more players/users to watch races. We are working on this. We are also investigating and have had some discussions on how to make more horses raceable. More will likely be coming on this in the near future.

In regards to a new and updated desktop client, it has been slowed by other items that have come up that have needed to be addressed before work on the desktop client could be continued. The redesign of the shed program has particularly contained items that have needed to be addressed. The redesign of the shed program has been a very slow process. The new desktop client project is not dead. It is just requiring more time and getting other things done first.

08/02/16 - Past Qualified Shed Horses
Here are 5 more horses that we believe were also previously qualified to go into the shed and have been added to the list below: Fager Island, Freakish Girl, Hard Wanderer, Leg At Each Corner, Rawle I Am Sorry. These are all dams and with these additions we will now add up to 3 each month for the dams until they are all used up instead of 2 previously.

07/27/16 - Shed Program Update
We are delaying the start of the shed program until the middle to end of Sept. After taking feedback about the planned shed program we are going to modify how it will work. Below are the details.

The HRG horses from the past (such as Secretariat, Barabaro, etc) will be narrowed to 50 sires and 50 dams. Whenever we add a new HRG horse one will be removed and the added one will take its place so there will never be more than 50. There will also be 15 community sires and 15 community dams available to be bred to which will bring the total of sires and dams available at any one time to 65 each. To get the community list down to 15 on Oct 1st the least bred community sires and dams to verified stables will be removed. Starting on Sept 1st, one community sire and one community dam will be added to the community list and will remain on the list for 15 months before dropping off. One of the remaining current community sires and dams will drop off each month (based on least amount bred to) until all of the current community sires and dams have dropped off. When a sire or dam drops off the community list they will be placed on a Hall of Fame page and be listed as one of the greats of the game.

The selection process for 1 sire and 1 dam each month will be the following. Each VIP player will be allowed to nominate 1 sire and 1 dam for consideration for acceptance into the shed each month. To be eligible to be nominated a sire or dam must have won at least 1 G1 race (for tournaments it must have been a finals race and not a qualifier) and 1 million game points. The sire or dam that is selected each month will be the sire or dam that earned the most game points in its carreer from those that are nominated.

Before the above selection process starts any previous sires and dams that qualified for the shed in the past but were waiting to be placed in the shed will go into the shed first if their owner is still active in the game. The previous qualified sire will be the first sire to go in on Sept 1st. For the dams, 3 dams will go into the shed each month and remain in the shed for 15 months until all of the dams from the past are in the shed. This will mean that for a period of time there will be slightly more than 15 community dams. Here is a list of horses that we have found to have previously qualified with active owners: Sires - Aapple. Dams - Faded But Kept, Fager Island, Favourite Player, Freakish Girl, Groom Tear, Hard Wanderer, I Am The Greatest, Kat Haven, Leg At Each Corner, New Legend, Rawle I Am Sorry, Two Hard Mintues, Virtual Ghost. If you belive there is a horse missing or a horse listed that should not be please mail us and let us know.

Any player that is VIP that has a horse go into the shed will receive 3,000 game points for each foal created by a verified player from that sire or dam.

Please provide any further feedback to us through the HRG mail system and we will consider. Thank you.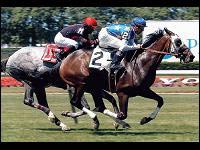 Imagine breeding, owning, caring for, training and racing your own stable of virtual thoroughbreds while interacting in a vibrant social community with thousands of online horse game players from all over the world. This exciting game puts you in complete control of your virtual stable and gives you a first-hand insight of what top thoroughbred owners and trainers do to prepare their horses for upcoming horse racing events.
After breeding and analyzing your horse, your caring and training routine will get him ready for his racing debut. Identify and enter the correct races for your horse, assign his training routine, give your jockey racing instructions, then sit back and watch 3D horse racing at its finest. You will be on the edge of your seat cheering for your virtual thoroughbred as he turns for home and strives with an all-out effort to reach the finish line first. No other horse game can provide this level of realism.
This exciting free game allows racing fans, whether novice or seasoned, to enjoy the most realistic, heart-pounding, exciting gaming experience.
Players compete for top honors and awards in our free online horse game. Will your horses have what it takes to earn top racing honors with you as breeder, owner, and trainer?
Click the Play Now button to start building your stable of champions.




| | | | | |
| --- | --- | --- | --- | --- |
| | | | Smokin' Joe Talamo (Top Jockey and TV Celebrity) - "Being 20, I know all about games. Not only do you guys make the best horse racing games, I think ,simply put, you make the best games! Anyone who plays will become addicted to any one of your games." | |





| | | | | |
| --- | --- | --- | --- | --- |
| | | | Jacob - "Just started getting into horse racing and stumbled across your website. I play skill games and strategy games all the time. Yours are a blast! | |





| | | | | |
| --- | --- | --- | --- | --- |
| | | | Tony - "Love your virtual simulations of upcoming stake races. I've been using your program now for about a year. You've helped me find real hidden betting value in some big races." | |





| | | | | |
| --- | --- | --- | --- | --- |
| | | | Kimberly - "I'm not even a big horse racing fan, but I love horses and I love games and yours are a lot of fun." | |





| | | | | |
| --- | --- | --- | --- | --- |
| | | | Chantal Sutherland (Top jockey and professional model) - "Offering multiple games to reach such a broad audience is a great way to create awareness about horse racing. Obviously, my favorite is the jockey game. It's very realistic." | |